Family Walk in Odaiba area!
Those families who has not visited Obaiba yet,
let`s go now!
Recently pleasant weather continue and the number of days
suitable for walk is increasing.
How about to take your family out?!
During this season there are many major events hold
in various places.
However, how about to visit Odaiba where you can experience
meat festival and much more?!
Meat festival will become today`s walk main event.
Next stop of our visit will be a place
where both kids and their parents can enjoy cars and
get some mechanic experience.
Then we will stop at the caricature shop where the staff
will draw for us a memorial picture!
And at the end of the walk let`s take a ride at Ferris Wheel!
This time route:
Yurikamome Odaiba station South Exit
→
Meat Festival Tokyo 2018
→
TOKYO CREPE GIRL
→
MEGA WEB History Garage
→
Caricature Japan
→
Palette Town Ferris Wheel
→
Rinkai Line Teleport Station B Exit
Distance: 2,8 km
Steps: approximately 3,888 steps
Time: estimated 36 minutes + leisure, time for meal
Budget: 15,000 yen (family of three members)
In order to get to Odaiba station take a Yurikamone line.
If you wish to watch changing scenery from a window seat,
sit at the front of the vagoon!
When you arrive to Odaiba station get out of tickets gate,
turn to right and get off at the south exit.
"Upper Left/ Daiba station is 6th station from Shimbashi station
on Yurikamome Line.
Upper Right/ Enjoy watching the changing scenery
while sitting at the front seat.
Lower Left/ Exit from the ticket gate and walk to the right.
At Fuji TV building continue to the left.
Lower Right/ Gold "Statue of Liberty" landmark is total 27 meters high."

After leaving the station, walk towards the south and
you will arrive to the bridge which is called West Park Bridge.
While crossing the bridge, you can feel a comfortable breeze.
This season is really great for a walk
, don`t you think so♪
?
Even parents with their kids can walk here hand in hand while
enjoying sun and sea breeze.
"Left/ Multicolored tulips in a full bloom.
Right/In this open park you can enjoy walking with your children freely!"

Tulip Festival was held until the middle of April in
"Symbol Promenade Park".
It is said that at that time there were two hundred thousand tulips
in a full bloom!
On May 26th, there is held another event. Bulb of tulips will be dig out
and people can carry those bulbs home.
For more information please check this web site
http://www.tptc.co.jp/park/01_04/garden#mainbody

1. A meat festival where the meat is gathered
from all over the country!

Festival of "meat" gathers all kinds of meat from all over the country.
At meat festival TOKYO 2018 children as well as their fathers,
can satisfy their stomach with delicious meat meals!
※
This event has already ended.
Meat festival TOKYO 2018 is held in P section of Odaiba Omichiku square.
Before annual opening more than 1,000 people
are waiting in a line to get tickets!
Peak time is from 11 A.M. to 15 P.M. and it is recommended to
participate right from the opening.
If you purchase "Fast Pass Ticket" in advance you can get any meat dish
as you wish without waiting in line!
※Five meal tickets + Fast Pass Ticket/ 4,000 yen (tax included)
Lawson ticket
http://l-tike.com/order/?gLcode=30029
" At meat festival TOKYO 2018 you can try the most popular
23 meat dishes from all over the country.
We would like to recommend you our three most popular store."

Every year there is a constant queue at
"Drinkable Hamburger Takadanobaba Store."
This luxury hamburger is prepared from 100% Japanese black breed cattle
which is in Japan very popular.
Twice grind meat is overflowing with delicious gravy juices.
The same texture of this hamburger cannot be tasted anywhere else.
Some people standing in a line smake happy faces just ithinkin about it★!
The next recommended store is "Cheese Cheers Cafe Shibuya" which is
popular mainly by cheese lovers.
Last year the store exhibit at meat festival for the first time and
the queue of people in front of their store was constant.
Therefore this year it is expected that the store will have
a lot of attention as well.
The popular menu is thick "Raclette CCC Cheese Meat Hamburger".
Minced patty with plenty of gravy and exquisite cheese sauce which
creates topping of this popular hamburger.
Make sure you will try it otherwise you will regret later!
Our last recommendation is "Fried Chicken called Karage".
This one is popular by adults as well as by children.
Did you know that Nakatsu city at Oita prefecture is famous
for deep-fried chicken meal?
Big production of chicken at poultry farm was flourishing, therefore
Nakatsu city has developed into "Karage Sacred Ground".
The store representatives came all the way from Kyushu
just to participate at this meat festival.
This Kyushu chicken is pickled for a whole day in fermented tartare sauce.
The delicious taste of tartare sauce penetrates into Karage.
You have a chance to purchase food vouchers even inside of the
festival area. Payment is available cash or electronic way.
Moreover, if using electronic "ID" you don`t even need to purchase
fast pass!
However, note that you cannot charge it inside the festival area.
It is better to be prepared in advance so you do not miss the chance to eat
your favorite meat dish!
(TOKYO) MEAT FESTIVAL TOKYO 2018
Odaiba Special Area-Odaiba Omichiku Square P Section
(Koto-ku Aomi 1-1-16)
Opening Period: April 27 (Fri) ~ May 6 (Sun)
Business Hours: 10 A.M. ~ 9 P.M.
Access: from Daiba station at Yurikamome line 5 minutes on foot
from Tokyo Teleport station at Rinkai line 7 minutes on foot
Entrance Fee: free of charge
(meal and beverages for extra charge)
※Meal tickets are available (700 yen per one)
electronic payment is available
Hosted by AATJ Co., Ltd.
URL: http://www.nikufes.jp/
※This event
has already ended.
"Left/ If you walk in a direction towards Daiba city, you will find
Gundam statue!
Right/Public toilets in the middle between Gundam statue and meat festival spot."


2. Enjoy yummy pancake prepared right in front of you!
Gundam stands over the
surrounding food court of Divercity・At Tokyo Plaza
you can find a cute crepe shop called "TOKYO CREPE GIRL"!
Sweet aroma of the crepes is inviting.
Our favorite is stawberry and custard crepe with ice cream topping.
If you decide to visit this place with your family, you may order
different flavors and share them together♪.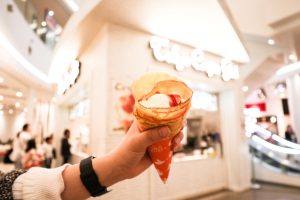 "Custom made crepes.
Strawberry and custard cream (411 yen tax included)
with ice cream (102 yen tax included) !
The crepe dough has a yummy elastic texture!"

TOKYO CREPE GIRL Divercity Tokyo Plaza Store
Divercity Tokyo Plaza 1F, Koto-ku Aomi 1-1-10,Tokyo
(inside Tokyo Gurmet stadium)
Contact: 03-6457-2633
Business Hours: 10:00~22:00 (L.O. 21:30)
Regular Holidays: Same as the facility

3. Those of you who like cars will be surely delighted!!
Shop & Café full of charming sports cars.
After meat festival, let`s head to "Venus Fort".
Landmark of this place is "Palett Town Ferris Wheel" which
can be seen even from a distant place.
If you turn to the right at the crossing at the station Teleport Eki Mae,
"Venus Fort" will be right there.
Take a roundabout at Aomi crossing and enter from the main gate~!
"Venus Fort" and "MEGA WEB" are connected to each other,
so if you keep walking towards the back of 1st F,
you will arrive at "GREASE GPS"!
The shop is dealing with displays mainly
motor sports & racing model mini cars.

"Friendly store manager who can explain details
you would like to know about cars!
His popular cars are classic ones from 70ties and 80ties."


For those mothers who wish to take a break while their children and
fathers are haunting at a shop which looks like a toy box
use
the cafe space at "CAFE & BAR GREASE" .

"CAFE & BAR GREASE" is a classical and calm space.
There are about 40 seats and you can reserve
your favorite spot in advance."

Menu offers more than forty kinds of drinks.
Regular coffee (340 yen tax included) or
mango juice (390 yen tax included).
Staff meal recommendation is "Hot panini with raw ham and
mozzarella cheese" (620 yen tax included).

"Upper Left/Yellow Lamborghini.
Upper Right/Waiting stand.
Lower Left/ Those customers who are visiting café,
can recharge their phone with charger looking like a sports car
♪.
Lower Right/ F1 Figures.

And children will absolutely love this mechanic experience.
Reservation is not necessary.
You just need to know at the door of garage behind the shop!
You can ask veteran staff of the store anything
you would like to know about cars.


※Please note that the time for observation is decided.
RESTORE PIT
Time for Observation: 11:00 ~ 12:00 / 13:00 ~ 18:00

"Upper Left/ The staff is maintaining engine of the car
which are exhibited at History Garage.
Upper Right/Popular car "Skyline"
Lower Left/ Girls are also welcomed.
Overalls are available from size 80 cm.
Lower Right/ You can also do the observation tour just from outside.
You can see various parts and tools."


GREASE GPS
History Garage 1F
MEGA WEB, 1-3-12 Aomi, Koto-ku, Tokyo
Contact: 03-3599-3722
Business Hours: 11:00~21:00
Regular Holidays: Irregular (check on MEGA WEB HP)
http://www.megaweb.gr.jp/area/historic/history-1f.html

CAFE & BAR GREASE
History Garage 1F MEGA WEB, 1-3-12 Aomi, Koto-ku, Tokyo
Contact: 03-3599-3722
Business Hours: 11:00~21:00
(L.O. 19:00/on Sat. L.O. 20:00)
Regular Holidays: Irregular (check on MEGA WEB HP)
http://www.megaweb.gr.jp/area/historic/history-1f.html

Next, stroll through "Venus Fort" at 1F~
♪

"Left/Photo booth is located at the floor!
Right/If you have some extra time you can do some shopping.
You will find here even Nittori furniture store."


4. What is caricature!?
Keep a memory of your smiling family!
Well if you came all the way here with your family,
how about to have some memory of your family that
you could even display at home?
Let`s visit next place which will fulfill such a need!

"Lovely couple coming from Malaysia"



"The Caricature Japan Odaiba Venus Fort Store" can be found
in front of "Nittori" store.
The store has many caricature works on display!
The artist can draw your look and character on a piece of paper.
Isn`t is amazing! The caricature comes originally from Italy!
Exaggerated illustrations of unique figures can be often seen
in a political column of an overseas newspapers.


"Store manager Mrs. Kobayashi is a very cheerful person and will explain
all the details in a pleasant manner."

The store manager Mrs. Kobayashi looks more on overall energy and
character of the person instead of just focusing on each parts
such as eyes, nose or mouth and try to sketch it on the paper.
Also by incorporating your memories or episodes into picture,
she can create a caricature masterpiece that will express you.
In order to do that, she requires just 15 to 20 minutes.

She can draw caricature even just from selfie photos
therefore you can just pass her the data and she can draw the picture
while you are going for a short walk or while you do some shopping♪.

"Upper Left/The artist can grab a character of a person in a blink of eye.
Upper Right/ The drawing can be also scrolled.
Lower Left/ If you would like to receive scrolled NInja type drawing...
it will cost extra 1,620 yen.
Lower Right/ You can also choose the level of "HAPPINESS"!

In case this place is crowded, you can use also other store which is located at 2F.

Approximate price (tax included):
1 person (2,376 yen)
2 people (4,752 yen)
3 people (7,128 yen)

Caricature Japan
Palette Town 1F in front of store Nittori, 1choume Aomi Koto-ku, Tokyo
and
2F in front of Lion Heart E Place
Contact: 03-5830-7220
Business Hours: 11:00~21:00

※Last order served at 30 minutes prior closing time.
Regular Holiday: same as the facility
URL: http://caricature-japan.com/shop/venusfort/

By the way, in 2F where Caricature Japan and MEGA WEB HISTORY GARAGE
are located is also exhibition space with vehicles.
If you have some extra time make sure, you will visit this area as well.

"Left/ Showa retro atmosphere. It feels like time has stopped here.
Right/ For those who loves cars this place will feel like paradise.
You can find here displayed such as "Toyota 2000" vehicles.

5. Odaiba`s famous Ferris Wheel! Touch the sky!
Leave the "Venus Fort" outiside square, then pass through TOYOTA exhibition
showroom "MEGA WEB TOYOTA CITY SHOWCASE" and you will arrive
to the entrance of "Palette Town Ferris Wheel."

"Upper Left/ from this area at "Tokyo Teleport Station"
you can take a photo of whole Ferris Wheel.
Upper Right/ Enjoy the view the the cabin♪.
Lower Left/If you come here on national holidays or in a high season
you might wait for tickets for more than one hour.
Lower Right/ Waiting time is shown at the electric board at the entrance or
at official HP


"Pallette Town Ferris Wheel" is the largest Ferris wheel in Japan and
its height is 115 meters. In 1999 the Ferris Wheel was certified by Guinness
as the world heightest Ferris Wheel.

Ferris Wheel has total 64 cabins. 4 of them has transparent walls and floors.
Therefore, you have a chance 1/16 to get into this one!

One ride takes approximately 16 minutes.
From the top you can see landmarks such as "Fuji TV Headquarters" and
"Rainbow Bridge with Tokyo Tower".
In the direction to north you can see "Sky Tree",
on the opposite sea side can be seen Tokyo Gate Bridge"
known as a "Dinosaur Bridge".
If you keep searching you will definitely find even more interesting places!

Pallette Town Ferris Wheel
1-3-10 Aomi, Koto-ku, Tokyo
Business Hours: 10:00~22:00
Fri, Sat and Nat. Hol. until 23:00
Fee: 1 person (from 4 years old) 920 yen (tax included),
group ticket (for 1 cabin and 1 round) 3,098 yen (tax included)
Regular Holidays: None
URL: http://www.daikanransha.com/


**********************************************

This is the end of today`s walk. Hopefully you and your family will enjoy it!
Of course you can come here also with your friends or your loved one.
I have not mentioned "Daiba 1choume Shopping Mall" which is also worth
to visit. You can find there various retro games and toys.
Enjoy your walk!

Summary

Yurikamome Odaiba station South Exit→
Meat Festival Tokyo 2018→
TOKYO CREPE GIRL→
MEGA WEB History Garage→
Caricature Japan→
Palette Town Ferris Wheel→
Rinkai Line Teleport Station B Exit

Distance: 2,8 km
Steps: approximately 3,888 steps
Time: estimated 36 minutes + leisure, time for meal
Budget: 15,000 yen (family of three members)

Map
Original Article: https://sanporge.com/daibagw/
Translated and Modified by: Eva Navratilova