How about to enjoy the nature and at the same time to be able
to GET some stylish gift?
♪
We recommend to stroll around Futako
Tamagawa river area. This walk will be especially fun for ladies
in their thirties.
,,Futako Tamagawa is Rising" a newly discovered symbol,
,,Tamagawa Takashimaya S.C." a place where madams gather.
,,Hyogo Island Park" is crowded with children during holidays.
Futako Tamagawa area is full of highlights starting from modern
stylish places to nature.
If you are foreigner lady in their thirties living in Tokyo, you should
know about this area. Great nature around Tamagawa river is amazing
and there are many shops in this area where you can purchase a cute
small gifts.
Recommended Route:
Futako Tamagawa Station→Tokyo Plaque Lunatique→BOX&NEEDLE→
SAKE SHOP Fukumitsuya→Futago Bridge→Futako Tamagawa Station
Distance: 2,9 km
No. of Steps: approximately 5,547

Required Time: 36 minutes + meal time & time for shopping
Budget: approximately 4,500 yen
1. Get a finest French meal for a reasonable price!
French restaurant ,,Tokyo Plage LUNATIQUE" is a place where
you want to eat even if you need to line up to get in.


,,Before you start doing some activity, you would like to
get some meal, isn`t it?" Just when this thought comes
to your mind, you will discover signboard. This advertisement
for a casual French restaurant ,,Tokyo Plage LUNATIQUE" is
placed along the Tamagawa river almost secretly.
This area along the river looks like Segway and robots experiments
are carried out. This place will somehow make you feel that
you have traveled in time to a near future and that is a quite
exciting feeling.


When you look at front of you, unexpectedly, you can see
something that looks like a small hill! On the waterside of Tamagawa
river you can see ,,Futako Tamagawa park". If you decide to climb
the stairs up, you will reach an open space from where you
get a great view as there is nothing blocking it.
It is said that during the sunny days, you can even see Mt. Fuji
from here.

Top photo/Walking down the stairs, you can watch there sitting
couples enjoying their conversation. On a sunny day, a date
like this should be definitely a fun!
♪
Middle photo/Photographers who hope for the best rural spots!
You can see men holding their camera still. We recommend this
place to those who loves photo shooting!
Bottom photo/Pet lovers will love this spot as well.
Dogs can enjoy this wide ground as they can freely run around.
,,What a cute doggie. How old is he?" you can often hear.
Pet owners will like this place as it is a great spot for them to
have a conversation here together.


Definitely Futako Tamagawa river area which is surrounded by
rich greenery is a spot worth to visit while it gets a bit warmer.

Right in front of the park, along the Tamagawa river there is
a place which is our target, a single house restaurant called
,,Tokyo Plage LUNATIQUE". An authentic French cousine
can be enjoyed for affordable prices. The price includes

hors d`oeuvre, amuse, main dish and dessert. This might be
a reason why this restaurant is crowded even during the weekdays.
♪

This restaurant was reconstructed. Previously an old apartment
interior was repainted. Based on the place where you sit,
the colors of the wall and interior are different and each seating
area is unique. How about to pick your own favorite table?
I visited restaurant when the weather outside was great therefore
I picked for me a sunny window seat!

Menu includes specialties such as ,,Hokkaido`s Deer Saute"
(price
1,500 yen including the tax), ,,Bouya Base" (price 1,500 yen
including tax)" and others. And as the rumor says the prices
are indeed reasonable.

When we try to find out why it is so, we ask the staff. Their reply
is ,,we try to adjust to those who would like to eat real French meal
everyday", therefore starting from ordering of the meal to serving
the pastery, you can find a self-order system here, therefore we
can keep the prices at the reasonable price range. Some of you
might be moved to be able to eat French for such a reasonable price!

How about ordering the most popular ,,Steak with Foie gras"
(price 1,500 yen including tax).
Foie gras is placed on soft thick beef file and creates
a luxurious dish. The delicious sauce spreads all over the mouth.


When you feel that your stomach is full and you are about to leave
the restaurant, look at the wall on the side and you will see
a cute painting. This painting could create a great background
for taking photos together with the meal so you can update
your instagram photo gallery.


Tokyo Plage LUNATIQUE

1-1-4
Tamagawa
Setagaya Tokyo
Contact: 03-3708-1118
Business Hours: from Monday to Saturday: 11:00-23:00 (LO 22:00)
National Holidays: 11:00-22:00 (LO21:00)
Days Off: No Holidays
URL: htp://tabelog.com/tokyo/A1317/A131708/13026691/

2. Make your gifts looking gorgeous!
♪
The world`s first handmade box specialty shop ,,BOX&NEEDLE"
After leaving the restaurant, there are plenty of interesting shops
on the opposite side of the station at west exit area. Are you
considering to get some gift? When you are in this area,
you can find a signboard on which is written ,,Valentine`s
chocolate box". It seems like an interesting place already
from outside and we think that on days like Valentine and
at similar events you might find a perfect box for you here.
,,BOX&NEEDLE" was established by Kyoto`s

,,BOX&NEEDLE" shop was established by Kyoto`s long-established
paper maker and it is the world`s first shop which is specialized
in making boxes. Inside the shop there are paper boxes of
various colors which create a very colorful atmosphere around the
store. It seems that working in such store must be fun! Boxes and
other decorated items on the wall are creating something that
looks like a fabric panel. All these beautiful colorful products will
make you feel excited just by looking at them.
♪

We tried to find out what are the most popular gifts for
ladies in their thirties". We got a reply from public relations

Mr. Ishida, ,,Jewellery boxes, tissue boxes and other items which have
a clear purpose of their use".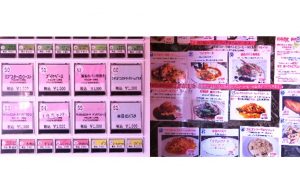 During this Valentine season, the store offers chocolate BOXes as well!!!
You can buy even boxes just for one or two chocolate pieces...and
so on, the size of the box is divided based on number of chocolate
pieces. Some of them are so cute! The paper used for these boxes
are original items designed by the store with the collaboration of
illustrators and pottery artists. Even those paper which might look
the same are not and when you look closely you will see that they
subtly differs. When you keep searching for the right one for you, you
might forget the time completely.
♪
Once you are at the store, change to the slippers and
go to 2F as well. You can find here displayed some special
outlet products and various colorful paper sheets.
During the weekend, workshops are held. Craftsmen who
are making boxes in Kyoto come and lecture here.
If you have an opportunity to visit such a workshop, it
would be a great experience, therefore check for HP`s
information.

All store staff has a good attitude and they always keep smiling.
It might be so because they are working in an environment
surrounded by nice items. The atmosphere here is so peaceful
and this workplace seems like a fun place!


BOX&NEEDLE
3-12-11 Tamagawa Setagaya Tokyo
Contact: 03-6411-7886
Business Hours: 11 A.M. ~7 P.M.

Days Off: Wednesdays
URL: http://boxandneedle.com/
3. ,,SAKE SHOP FUKUMITSUYA" is not just a place
for drinking but also a place where you can discover
new types of Japanese rice wines you did not hear about.

While walking at the B1 of South Bldg. Takashimaya S
・C,
you can see tasty delicatessen, sweets and other unusual imported
ingredients, meanwhile you will arrive to ,,SAKE SHOP FUKUMITSUYA"
which has various types of Japanese rice wines from popular
Ishikawa prefecture, a directly managed store Kanazawa sake brewery.
Apart from Japanese rice wine, you will find here other products
and cosmetics therefore even those customers who do not drink
alcoholic beverages, they can enjoy it here. However, if you are
a Japanese rice wine lover, this place will be your wonderland!


During Valentine season, you can see displayed lots of different
types of chocolate. The recommendation of the shop is
,,Junmai Daiginjo SAKE chocolate" (price 1,620 yen including
the tax). Rich aroma of Junmai Daiginjo SAKE which contains
jelly and ganache have two chocolate versions which could be
a perfect Valentine gift for Japanese rice wine lovers.
♪
Find your own favorite bottle! Talking to the staff you can find
a lot about your favorite product. We learn about the sake
on the picture above ,,As it is a pure rice liquor, it can be used also
as a lotion. It contains natural amino acids, vitamins and others,
for skin valuable ingredients." The hands of sake brewery chief who
brews Japanese rice wine, look beautifully white and it is recommended
to apply sake directly to your skin! This could be a perfect gift for ladies
who care about anti-aging.


When you finish your shopping, take a short break at cafe space
in the shop. Sake Kasu Milk Soft ice-cream topped by seven years aged
Honori Mirin source is a must-eat (price 388 yen including the tax)!
Thanks to sake kasu and rice you can feel a slightly sweet and
soft taste. This kind of ice-cream can be enjoyed also at winter.


SAKE SHOP FUKUMITSUYA TAMAGAWA Store
Tamagawa Takashimaya S.C. South Bldg. Basement 1F
3-17-1 Tamagawa Setagaya Tokyo

Contact: 03-5717-3305
Business Hours: 10 A.M. to 9 P.M. (L.O. 8:30 P.M.)
Days Off: According to schedule of Takashimaya
S
・C
URL: http://www.fukumitsuya.co.jp/

4. When you admire scenery from the bridge you can
see a pleasant surprise!

After you have chosen your gifts and you consider to return slowly home,
you get out of the store and find out that the sun is going down already.
Walk towards the Futako bridge which crosses Tamagawa river, you can
watch from there splendid sunset. When you start to think to yourself
what could be the thing at the back, you realize that it is Mt. Fuji.
Although you were not able to see it from the Futako Tamagawa park,
you can view it at the end of your walk here. It is a great view therefore
we recommend you to enjoy it!
♪

Hopefully you will enjoy this walk route that we have prepared for
you. Area full of nature and shops with a great gift choices is
a great place to spend your day!

Summary

Futako Tamagawa Station→Tokyo Plaque Lunatique→BOX&NEEDLE→
SAKE SHOP Fukumitsuya→Futago Bridge→Futako Tamagawa Station

Map

Original Article: https://sanporge.com/futakotamagawagift/
Translated and Modified by: Eva Navratilova