Bakery hopping at Yoyogi Uehara~Yoyogi Hachiman,
popular bakery areas♪
Even further than ,,Okushibuya'', you will find famous bakery areas
Yoyogi Uehara〜Yoyogi Hachiman known as bakery battlegrounds.
At the end of today`s walk, make a picnic outside at Yoyogi Uehara park.
Among all the shops, we recommend three places where you can get
an amazing bread for your picnic. GET your favorite one and
in coffee shop take out some delicious coffee.♪
This time route:
Yoyogi Uehara station→
NODE UEHARA→
Tokyo Camii Turkish Cultural Center→
Mi Choripan store→
365 days store→
15 ℃ store→
Yoyogi park→
Yoyogi park station→
Distance: 2,3 km
Steps: approximately 5,270 steps
Estimated time: 28 minutes + time for sightseeing, shopping and picnic

Budget: 3,500 yen
1. GET a delicious bread HERE!

In front of the station you will find an amazing grocery shop♪
Start your walk from the north exit of Yoyogi Uehara station! As soon as

you exit from the north exit, you will see many people walking

on the street. Some of them will suddenly stop in front of a stylish shop

called "NODE UEHARA". Enter the store immediately〜.
"NODE UEHARA'' is a complex facility based on a concept

"Lifestyle connected with food". Inside the complex can be found cafe,

bistro, deli, residence and office space area.

After entering the store, you can see grocery area immediately.

It has a vast number of carefully selected items from national

as well as overseas markets. Items such as chocolates, jams or

green leaves are inviting and surely you will be tempted to select

more than just one item〜.
Before you commence your bakery tour select some jam

that will match your bread you are going to buy later.

This store has a huge selection of various unusual jam flavors such as

mandarine orange, atago pear and others. To decide between so many

of them will leave you completely lost!

How about to GET dry fruits and walnut mixed black tea jam

(540 yen, tax included)? You can combine this type of jam even

with cheese baguette and it also goes well with alcohol♪
NODE UEHARA (1F)
3-11-8 Nishihara, Shibuya-ku, Tokyo
Contact: 03-3466-0497
Business Hours:

Monday to Friday: 11:00〜23:00
On Saturdays, National Holidays: 11:00〜15:00/18:00〜23:00
Closing Days: no holidays
URL: http://welcometonode.jp/uehara/
2. Take a photo from any side you wish

as from all sides it will look GREAT!

Visit a place which is a recommended SNS photo spot♪
Enter Inokashira street from the street in front of the station

and turn right. When you walk for a few minutes,

you will see a big white building on the opposite side of the street.

"What? Is it a mosque inside the city?" you might wonder.

However, in Yoyogi Uehara there is ,,Tokyo Camii Turkish Culture Center"
which is a famous muslim mosque.
In fact, anybody can enter freely and currently it is a popular
SNS photo spot!
You will be fascinated by two floors chapel with a dynamic coloring based

on blue and delicate geometrical ornaments!

It is often said that this is the most beautiful mosque in Asia.

On Fridays many muslims gather in the mosque and do their worship.

Do not forget to check HP to become familiar with proper manners and

proper clothing prior your visit!

At the 1st floor of Culture center you can find a souvenir corner

with displayed Turkish traditional prints products, such as ceramics,

pouches, postcards and many more.

We recommend to GET some beautiful blue pouch as a memory of

today`s walk (500 yen, tax included, at lower right photo)!
Tokyo Camii Turkish Culture Center
1-19 Ooyama-cho, Shibuya-ku, Tokyo
Contact: 03-5790-0760
Business Hours: 10:00~18:00
Closing Day: no holidays
※Confirm the manners on the HP below↓ if you plan to enter the chapel

URL: http://tokyocamii.org/

Continue walking through Inokashira street

in the direction of Yoyogi Hachiman.
Approximately in the middle of the way to your first bakery store,

under the guard you can notice water birds painting on the wall.

Doesn`t it bring a memory of your childhood?

3. Topic even in media!

A famous Argentine sandwich known as "Choripan"

Walk straight through Inokashira street for approximately five minutes

and you will encounter the shop with colorful signboard.


Right photo: Is this picture familiar to you? Yes, it is a flag of Argentine.
,,Choripan" is a store specialized on Argentine soul food!

"Choripan`s texture" is similar to texture of french bread.

It is stuffed with choriso cutted on very thick pieces and

plenty of vegetable. It is a gourmet of Argentine common people.

Choriso salami used for "Choripan" is prepared

by store`s owner husband who has studied in Argentine.

It is made from fresh minced meat from butcher`s shop and
mixed with more than ten different spices. Minced meat with all spices

and ingredients is stuffed into pork intestines and put to ripping.

It takes approximately four to five days to be able to eat

a homemade chorizo.

Popular order in Mi Choripan store is "Choripan" with lots of vegetable

and sauce topping (customed Choripan 1,100 yen, tax included)
You can watch the whole process of "Choripan" preparation from roasting of bread to
placing the topping. Just watching this process is lots of fun♪
Once "Choripan" is ready, you can smell well grilled Choripan spicy sauce

and sour-spicy sauce ,,Chimichuri" which is vital for Argentine meat meals.
Aroma drifting in the air will surely increase your appetite!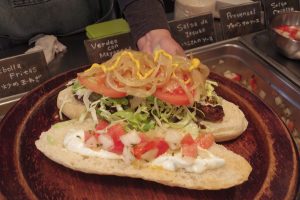 Even though you can sit and eat inside the shop, on a lovely sunny day

take ,,Choripan" out and continue your walk.

Mi Choripan
2-4-8 Uehara, Shibuya-ku, Tokyo
Contact: 03-5790-9300
Business Hours:
Monday〜Saturday 11:00〜22:00 (L.O. 21:00)
Sunday〜National Holidays 11:00〜20:00 (L.O.19:00)
Closing Days: Tuesdays and second and forth Monday in a month

(opened on national holidays)

URL: http://michoripan.com/
Walk approximately 5 minutes through Inokashira street again.

Before reaching highway route, you will discover a narrow street

and keep walking this way.


This street is not a very long street however you can find here
for example "HININE NOTE" store with many original memo books or
you can purchase for example strawberries♪
4. Bread which you wish eating "365 days" a year.
A bakery which becomes a hot topic♪
When you come out of the narrow street, pass under the guard and
head for a wide street in front of Yoyogi Hachiman.
Continue walking through narrow street on the right side
of the super market ,,Maruman"...
You will arrive to the bakery store called ,,365 days"
which is located
in a highly competitive tremendously popular bakery area,
Yoyogi Uehara & Yoyogi Hachiman!
The owner and chef says ,, I want you to realize the importance
of everyday meals".
He personally visits all regions in Japan and searches for special ingredients
used for making bread. All bread in the store looks so delicious!
The sizes of the brioches and other types of bread are smaller
than you can see in other bakeries.
It is manufactured the way that you can enjoy eating various
types of smaller bread.
This is surely welcomed by ladies in their thirties
♪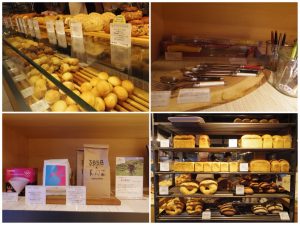 "The aroma of baked bread is drifting softly inside the store." In addition to the bread,
you can purchase also other items such as "365 Days" owner`s books, jam spoons
and other related items.
We recommend you to choose and take out bread
with smooth beans paste which is a characteristic item here
(bread roll with red bean paste, 183 yen, tax included).
Together with previously purchased jam in "NODE UEHARA" store,
it will be an amazingly delicious match (365 Days x baguette, 259 yen,
tax included)!
Although you might be tempted to eat it straight away,
be a little bit more patient!
"365 Days" Bakery
1-6-12, Tomigaya, Shibuya-ku, Tokyo
Contact: 03-6804-7357
Business Hours: 7:00~19:00
Closed on: February 29th
URL: http://ultrakitchen.jp/

5. How about to GET only yours special cup?
Take out self-roasted hand drip coffee
♪

If you came all the way up to "365 Days" bakery,
drop at the sister`s store"15
℃" which is located
approximately 30 seconds on foot from
"365 Days" bakery.

Comparing to "365 Days" bakery, it has wider coffee space,
so it is a GREAT place to relax here
♪
On the shelves there are many books lining up and it is coordinated
by bookstore "B&B" in Shimokitazawa.
Isn`t it wonderful to spend your holiday by purchasing books
and reading them in cafe space?

There are several kinds of hand-drip coffee which beans are sorted twice
and they are brewed carefully once at a time.

How about taking out hand-drip "TYPE
15℃" (594 yen, tax included).
You can get the same illustration of cute tiger on your take out cup`s sleeve
as on eat-in cups
♪
"15
℃" Coffee Shop
1-2-8 Tomigaya, Shibuya-ku, Tokyo
Contact: 03-6407-0942
Business Hours: 7:00~23:00 (L.O. 22:00)
※Cafe closes at 17:30
Closed on: no regular holidays
URL: http://ultrakitchen.jp/

6. Exceptional moment of enjoying bread and coffee
outside under the blue sky! Long-awaited lunch time
♪
♪
♪
You might feel already hungry and you would like to eat
your purchased bread fast, don`t you?
However, head for the best spot to enjoy eating of your bread.
When you get out of Inokashira street and cross on the nearby traffic light,
you will arrive to the west gate of Yoyogi Uehara park.
When you enter inside the park, take the road in front of you
and walk approximately 5 minutes!

Long-awaited lunch time at "Yoyogi Park Central Plaza"
where lawn spreads everywhere can begin
♪
If you plan to sit and eat on a bare ground, it is better if you bring with you

some kitchen towel or a picnic sheet.

Choripan which you purchased in "Mi Choripan" with its sauce is refreshing
and even two chorisos inside could be eaten easily.

Bread with its smooth red bean paste which was purchased

in bakery ,,365 Days" is so delicious that you will regret that

you did not buy one more!
Hand-drip coffee purchased at ,,15℃" coffee shop has a gorgeous aroma.

Even those people who usually don`t drink coffee can enjoy the taste.
How about having some straberries that you purchase previously

in the grocery store at short narrow street?
Is your stomach full now?
I am sure that you have enjoyed this walk and picnic♪
Yoyogi Park
Jinnan 2-chome, Yoyogi Kamizono-cho, Tokyo
Contact: 03-3469-6081
Opening Hours: 24 Hours
Closing Day: no regular holidays
URL: https://www.tokyo-park.or.jp/park/format/index039.html
In Yoyogi Uehara~Yoyogi Hachiman area, there are still
so many bakery shops that we have not introduced to you!
On our next walk in this area, let`s also visit the original note store♪
But this time let`s get train before you want to go BACK to search
for MORE!

Summary
Yoyogi Uehara station→
NODE UEHARA→
Tokyo Camii Turkish Cultural Center→
Mi Choripan store→
365 days store→
15 ℃ store→
Yoyogi park→
Yoyogi park station→
Distance: 2,3 km
Steps: approximately 5,270 steps
Estimated time: 28 minutes + time for sightseeing, shopping and picnic

Budget: 3,500 yen

Map

Original Article: https://sanporge.com/yoyogiuehara_bakery/
Translated and Modified by: Eva Navratilova